A unique identification (UID) number must be displayed on every cooling tower in NSW following the new Legionella Control Regulations.  As a safeguard during outbreaks of Legionnaires' disease, UID numbers need to accurately identify cooling towers.  All stakeholders should refer to cooling towers by their UID number, even during routine management.
UID numbers should be used when describing the cooling water system on official documentation including:
RMPs

Audits

Laboratory test results

Monthly reports

Service reports

Sample collection labels

Documents for audit

Certificates
UID numbers are issued by local government authorities.  UID signs must be: 
Clearly visible to a person examining or inspecting the system

Minimum size 148 mm x 210 mm (A5)

Made of a durable material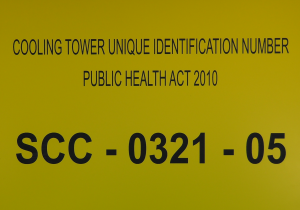 NSW Health have recommended a uniform and consistent numbering format for UID numbers: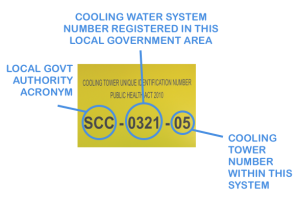 Most local government authorities are adopting the NSW Health recommended naming convention, although some have adapted the format.  Failing to adhere to the requirements of mandatory cooling tower UID numbers will result in hefty fines.
HydroChem have custom engraved Cooling Tower UID Number Signs, which can be purchased through the HydroChem online shop.
Click here to purchase Yellow and Black UID Number Signs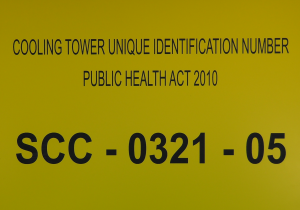 Click here to purchase Blue and White UID Number Signs